As you may have heard, the Hayastan All Armenian Fund has launched the #50PLUS Global Armenian Initiative, which has gained significant momentum in Armenian communities in Western Europe and the US, and has  already involved thousands of supporters.
We join their initiative and encourage the Montreal Armenian community to make monthly or recurring donations of 50$ and become part of the #50PLUS Global Initiative.
If 1 million Armenians donate just $50 a month, that's $50million a month or $600 million a year. The regular flow of these funds will ensure the rapid implementation of numerous humanitarian projects and facilitate long term planning and solutions to numerous strategic issues. 
The option of recurring payments is already available when you make a donation through our website. See image: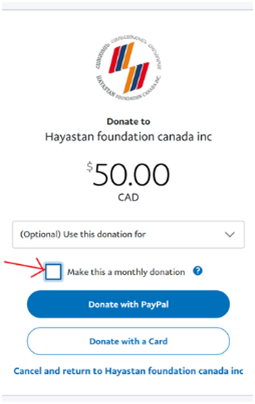 We hope you will join this initiative and share with others so they can join the
#50PLUS Global Armenian Initiative!
"Now, when millions of Armenians are standing as one and our voice is heard, is the time to consolidate our Global Armenian resources. Each voice makes a difference. #50Plus is how we ensure a self-sufficient, stable and lasting Homeland" Haykak Arshamyan, Executive Director, Hayastan All-Armenian Fund.